Looking for an office space to rent that supports both your personal and business growth?
Enter HUB26. Our little slice of heaven is perfectly situated right on the M62 motorway (J26) and is only a 15-minute drive from Leeds, 30 minutes to Manchester, 2 hours to Birmingham, and just over 3 hours to London, Edinburgh or Glasgow. No location is in a better position to service an expanding national marketplace.
With luxury facilities, an inspiring atmosphere and a close-knit network of likeminded individuals, both of our West Yorkshire based business centres are the perfect place for you to move to in the next step of your business' journey of growth.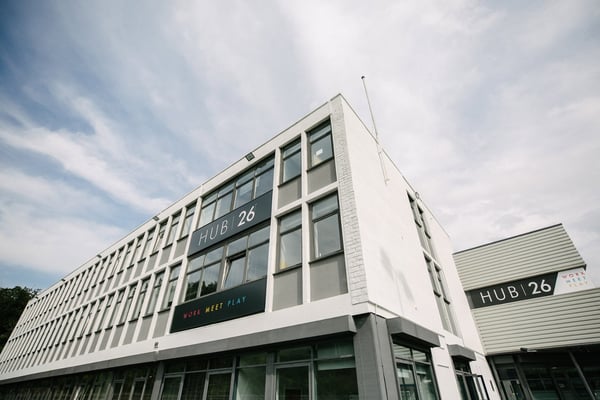 To find out more about HUB26 offices
Below we've outlined 12 major benefits that go hand in hand with making a luxury office a home for your business, to show you why this is such a smart move.
Here's what we'll cover:
Flexible working is a topic that's on everyone's mind with the current pandemic situation, so we'll start with this…
If you're a start-up business owner or freelancer, remote working may seem like your only option to avoid costly office space bills. But if your business is growing, a home office may not be suitable for meetings with clients or make it impossible to employ more people.
If you're wanting to take the next step in growing your business, a co-working membership could be an effective and productive choice. This isn't only a cheaper alternative to renting a permanent office space but also a flexible one with many benefits including: enhanced productivity, increased work-life balance, networking opportunities and more.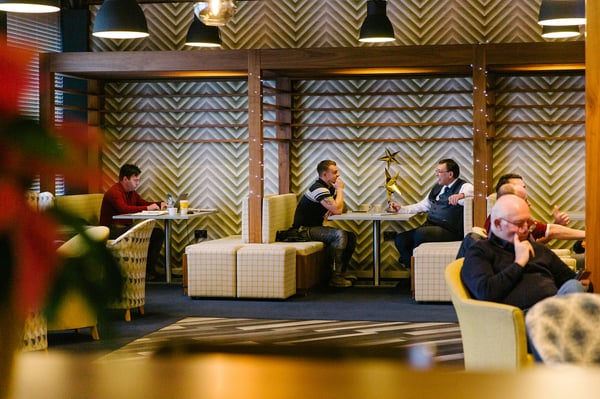 1.7 million people in the UK work from home, and Covid-19 has meant that working from home has been normalised for many. Obviously, there are benefits, like being able to work in your pyjamas, get odd jobs around the house done and watch the latest Netflix series, but this isn't a model that suits every employee or for that case, employer.
If you're considering transitioning your business to remote working, you should consider the many pitfalls, such as: switching off, communication issues and difficulty in maintaining a work-life balance, that will confront your team and business before taking the plunge.
Enhancing productivity is essential to business growth, yet the role of the workplace is an overlooked factor. Despite this, numerous studies have highlighted the significant effect an office environment has on employee productivity.
Working from a business lifestyle centre built for productivity can help your staff due to accessible equipment, office design, workplace culture and more.
Networking is such a crucial tool in the business world and by creating a professional network you'll be presented with many opportunities and a competitive edge throughout every single stage of your career. There are many benefits associated with networking such as new business opportunities, long-lasting relationships and raising your business' profile.
Many employees and employers state that they simply don't have the time to network, but at HUB26 our own organic resident networking, free networking events throughout the year and the opportunity for our residents to generate valuable contacts, creates a networking haven right on your doorstep.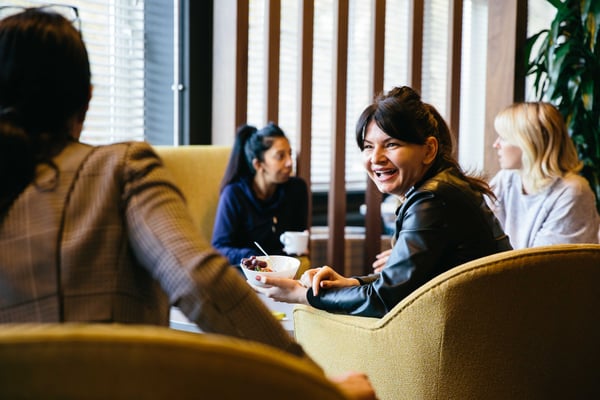 Overwhelming evidence supports the notion that the health, wellbeing and productivity of your staff are significantly affected by the place that they work from and how it's maintained. 61% of employers claim that working from a building that manages their facilities has had a positive effect on their employees, working environment, business growth and more…
We realise that effective facilities management can contribute significantly to improving productivity in the workplace and that's why we manage and maintain all facilities on-site. One of the greatest strengths of our unique offering is that we take away the headaches, leaving you free from distractions, to concentrate on what you do best - growing your business.
Studies highlight that the office is one of the most powerful institutes for learning and is of fundamental importance to professional development. Being present in the office environment creates many learning and personal development opportunities that your employees wouldn't gain whilst working from home.
We love personal development and often call it 'food for the soul'. Our residents often say it's due to a unique mixture of in-person experiences, other like-minded individuals and business opportunities. We believe a stimulating atmosphere encourages your employees to develop as professionals, resulting in numerous benefits for your business such as growth, new opportunities and competitive advantage.
The workplace is where we spend a good portion of our lives, so as an employer it's in your business' best interests to support your staff's wellbeing in the workplace. Mind reports that 1 in 6 employees live with a mental health problem and these problems are only aggravated by unhealthy working environments.
The choice of selecting an appropriate place for your employees to work from, that has the right atmosphere and facilities to put their health and wellbeing first, is crucial. This is just one of the reasons all of our residents receive a FREE FIT26 membership, their in-house region leading state-of-the-art gym facility.
The right choice can limit the risk of mental illness, and this can result in improved employee productivity, increased morale, fewer sick days, staff retention and talent attraction.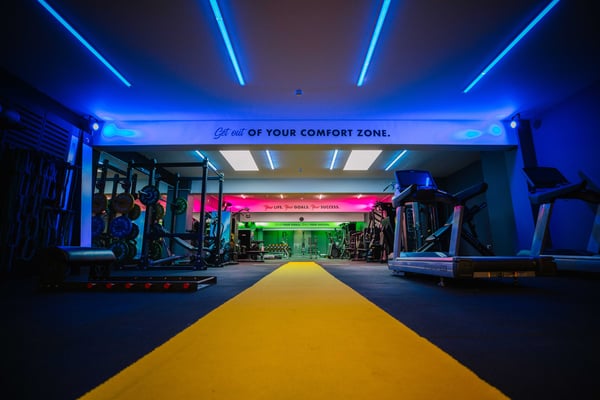 The modern digital era has caused difficulties in separating work from our personal lives; many employees often answer work emails and calls on nights, weekends and even holidays. This not only takes a toll on work-life balance but also leaves few hours for self-care, relaxation and quality time with friends and family.
With the possibility of work burnout, it's essential as an employer to stress the importance of work-life balance. Exercising daily, eating a balanced diet, socialising, managing time and getting a good night's rest are just some generic work-life balance tools that may be useful to your employees. Additionally, studies have found that working from the office can help with work-life balance too through the structure of the working day, lack of distractions and more.
Workplace culture is no longer a nice to have, it's now what makes or breaks the future of a company. Many managers have reported it to be as important as business strategy, as it can strengthen your business objectives and allow your business to thrive.
Many businesses fail to realise the hard work, perseverance and commitment involved with creating a healthy and positive workplace culture. With only 12% of executives claiming that their companies are driving the right culture, it's essential for you as a manager to pick the right environment to nurture yours.
The office's function as a social meeting space has become increasingly more important. The social environment of a business can be integral to its success or failure. Research highlights that the more connected your colleagues are, the more efficient your workplace will be.
Employers who take the necessary measures to create a positive and harmonious social environment in the workplace set themselves up for future success. Unlike working from home, the office creates a social function that's not only good for the mind but also beneficial for collaboration, knowledge-sharing and business growth.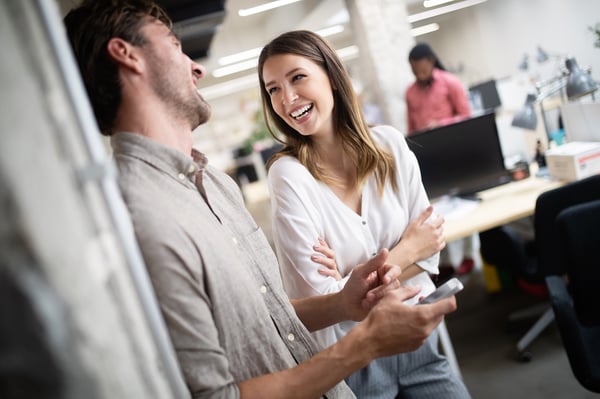 Investing in a workplace that not only attracts but also retains talent is crucial if your business wants to be successful. Significant costs are associated with attracting and retaining employees, for example, the average company can take up to 52 days to fill a position. Setting up in a suitable and inspiring environment can retain and attract candidates, making hiring processes easier, allowing your business to avoid these inconvenient costs.
A recent survey revealed that businesses who had luxury office space in the right location, with an attractive workplace culture and facilities were more successful at attracting and retaining employees.
Luckily for our residents, our Yorkshire based HUB26 is set in the heart of the UK's major city network, straight off the M62 motorway, FREE parking and with state-of-the-art luxury facilities.
Change management is critical for businesses to evolve and overcome the barriers that threaten an organisation. Effective change management can increase productivity, decrease risks and improve the profitability of an organisation.
Many remote workplaces have found difficulty when implementing change upon remote teams, highlighting the importance of the office in the process. Implementing and supporting change is much more effective in a physical environment in respect of creating role models for change, leading staff through the change and checking if the changed way of working is suitable for employees.
And more…
If you're looking for a business centre built specifically for growing organisations, employee wellbeing and somewhere to call your home away from home then

to read everything HUB26 has to offer including a video testimonial from one of our residents.