Here in West Yorkshire, some of our fore-fathers and mothers would have scoffed at the phrase 'work-life balance' as they walked to work down the mines in the dark, spent the day in the dark and then walked back home in the dark. It was a tough existence, but they were tough people.
Happily, modern living and technology now means the back-breaking labour once undertaken by our ancestors is no longer commonplace, and a movement towards your professional life being in balance with your personal life is the ideal outcome. However, even in the 21st century with all of our niceties such as: electricity, running water and now WiFi, most of us still struggle to maintain a positive work-life balance.
The reality is, modernity might be the problem with the digital age actually making it difficult to separate our work from our personal lives; many people answer work emails and calls on nights, weekends and even holidays. This not only takes a toll on work-life balance but also leaves few hours for self-care, relaxation and quality time with friends and family.
With the possibility of work burnout, it is essential for you as an employer to stress the importance of work-life balance. Studies have shown employees who have a positive work-life balance perform better at work, so promoting the balance could be beneficial to your company, and this starts at the office.
As we move towards what, hopefully will be, the end of the worst of the pandemic and optimistically look towards 2021 as a fresh start. We felt we'd help you get on the front foot offering some tried and test advice on getting your office and staff into tip top shape for the opportunities ahead.
For ease of navigation we've separated this post into two sections: first exploring a short list of the top benefits of why office based working helps with work-life balance and in the second section we'll finish with another top line shortlist of general work-life balance tips and tricks that will help your staff enjoy their time more in the office and happily help them become more productive too.
Here's what we'll cover:
Why working in an office helps your work-life balance?
Generic work-life balance tools
Let's start by looking at how working in an office can help you create a positive work-life balance…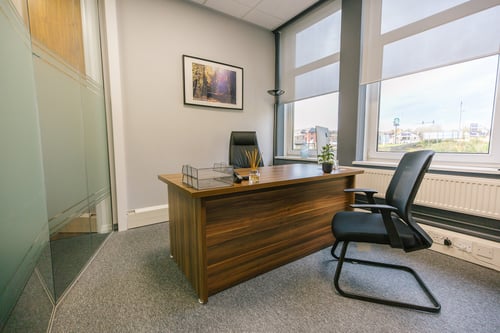 Blurred lines
Over 40% of employees work over their assigned hours when working from home, with most claiming that the reason for this is they struggle to switch off from work. This means that the lines between work and home can easily become blurred, and employees can become increasingly stressed and worried about job-related issues, negatively affecting work-life balance.
Working from an office establishes a strong structure to the day and a clear 'place of work' where your employees can physically leave their work and then go home to rest, relax and spend time with their family. Your employees need to spend time away from work and drop work-related worries, to prevent burnout and stress.
Structure of the working day
After hours of continuous work, even your most dedicated employees may suffer from physical and mental fatigue. Therefore, to ensure a positive work-life balance, employees should take short breaks to recharge and relax away from their computer screens.
Three in ten employees are reported to not take a lunch break and 29% don't take any break at all when working from home. The structure of the working day in the physical office environment ensures that there is time for your employees to take dedicated short interval breaks. This is not only essential for your employees' positive work-life balance but can also make your employees perform better as they're more focused, less burnt out and more productive in the long-term.
Away from distractions
When working from home, employees will usually face distractions from their partners, neighbours, deliveries and pets. And for those of you out there with children, we don't need to go on about the countless interruptions when you're trying to get things done.
A survey revealed that 65% of respondents were exhausted with having to juggle the demands of both work and family life whilst working from home. Working in an office ensures and maintains a positive work-life balance, employees' home-life related distractions can be left at home and they can just concentrate on getting their work done.
Socialising
Socialising is extremely important in maintaining a healthy work-life balance. Whether this is interacting with people going to and from work, having a quick chat in the corridor or grabbing a quick cuppa in the lounge - interaction is important and shouldn't be underestimated.
In West Yorkshire, we all know that a brew and a chat go a long way. Research has highlighted that talking with colleagues increases your productivity levels. Social interactions throughout the day can help to refresh the mind and create a short break from work duties and stress.
Unlike when working at home, socialisation is presented on a plate to you when working in an office complex like HUB26. You're automatically surrounded by like-minded people and networking events, and this is a great way to meet people and expand your social circle.
Facilities
Maintaining your work-life balance can be made easier depending on what facilities your office complex offers. Many offices in West Yorkshire promote and encourage a healthy work-life balance through the on-site facilities they provide; this may be gyms to blow off steam before, after or during work, luxury lounges to relax and socialise or quiet spaces to refresh your mind.
To find out more about our offices
CLICK HERE
For you to improve that much needed work-life balance, we've assembled some generic work-life balance tools…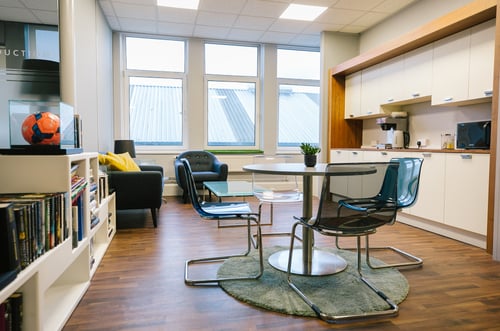 Exercise daily
Overwhelming research has been found to support the notion that regular exercise helps management of work-life balance. Exercise is one of the most effective ways of reducing stress and every adult should be aiming to exercise at least 30 minutes per day. Studies have also found that exercise can boost self-efficacy and give your employees the confidence to get things done.
Many office buildings in West Yorkshire like us at HUB26 have gym facilities onsite such as FIT26, so if you're lucky enough to work in a place like this, you should be encouraging your employees to use it regularly.
Even if you're not a gym lover but wanting to exercise, let's face it West Yorkshire is God's Own County so there's plenty of walks with stunning scenery for you to choose from.
Balanced diet
To achieve a positive work-life balance you must start with the basics; fuelling your body with a nutritious and balanced diet. Consuming healthy food not only increases your energy levels and brainpower but even improves your ability to concentrate and handle stress, positively affecting your sense of well-being.
Eating healthy doesn't have to be expensive, you can save money by bringing in something home-made and nutritious. Even if you're not a basic salad lover, feel free to get creative and search for some inspiration. Maybe you'd like to wow your colleagues and get down to your Yorkshire roots with a Yorkshire Wensleydale and Cranberries Cheese Salad or a tasty Roasted Rhubarb Salad.
It's also important to try to keep your mealtimes consistent, try to eat with others and away from your desk. Many office buildings have lounges that employees should be encouraged to use to get away from the office and socialise.
Make time to socialise with others
At HUB26 we recognise the value of socialising and how this is important in creating a healthy work-life balance. That's why all of our residents are free to relax, network and catch-up in our luxury CLUB26 lounge to take a well-deserved break from work duties and stress.
It's also important to have a social life outside of work too, external friends are important for your wellbeing as they allow access to the world outside of work. Try to organise a time during the week to meet and catch-up with friends or family over coffee or food, so you have an enjoyable activity to look forwards to.
Manage your time
Learning how to manage your time effectively is important in creating a work-life balance. Having a planned and clear work schedule makes it easier to leave work at the office and allows you to have some personal time to rest, develop a hobby, read and spend quality time with family and friends.
To make tasks more manageable at work, make a list of all the tasks you need to do and categorise them by urgency or importance. Breaking down these tasks into manageable parts which can be prioritised will reduce your stress levels and leave you to feel like you're on top of your tasks.
Value sleep
Sleep is crucial for your well-being and getting enough sleep is critical for maintaining a proper work-life balance. Having a healthy sleep schedule is vital to keep yourself going and we should all aim for an absolute minimum 7 hours of sleep a night.
We are better both mentally and physically when we have slept well and therefore feel more alert and focused at work the next day. Not getting enough sleep can damage your concentration, making you more irritable and not able to cope with stress. Lack of sleep is also recognised as a key cause impacting negatively on mental health.
Final words from HUB26
Work-life balance benefits both your employees and you as employers. For your employees to be productive, they must be given the chance to relax and recharge away from work duties and stress. Creating a work environment that prioritises work-life balance, can also increase retention rates and reduce absenteeism.
Even though in today's fast-paced business world it is a challenge in achieving a work-life balance, however, working from a business lifestyle centre, like us at HUB26, can help you to create this healthy balance.
TO FIND OUT HOW HUB26 CAN HELP YOUR BUSINESS' WORK-LIFE BALANCE