Before the pandemic, new technologies and growing trade links were the largest disruptions to work, however the pandemic has elevated the importance of the physical dimension of work.
Many argue that the pandemic has changed working patterns for good, triggering various arguments about the future of work. With many organisations adopting different approaches including mixed, working from home, and returning to the office, you may be left thinking "what's the best option for my business?"
Of course, there are benefits in working from home like: wearing comfy clothes, getting housework done and avoiding commutes. However, working from home has many disadvantages: it can be difficult sticking to a routine, home distractions can get in the way of your work and you may miss those random but often important chats with your co-workers.
If you're a start-up business owner or freelancer, remote working may seem like your only option to avoid costly office space bills. But if your business is growing, a home office may not be suitable for meeting with clients or impossible to employ more people.
With the new year not that far away, this could be the ideal opportunity for you to take the next step to grow your business.
There has been a rapid rise in co-working since 2005, and this is quickly becoming the office environment of the professional because of its many benefits. This way of working is not only a cheaper alternative to renting a permanent office space, but also a flexible and mentally beneficial one. If your only option at the moment is working remotely and you're looking to make the next step in growing your business, co-working could be an effective and productive choice.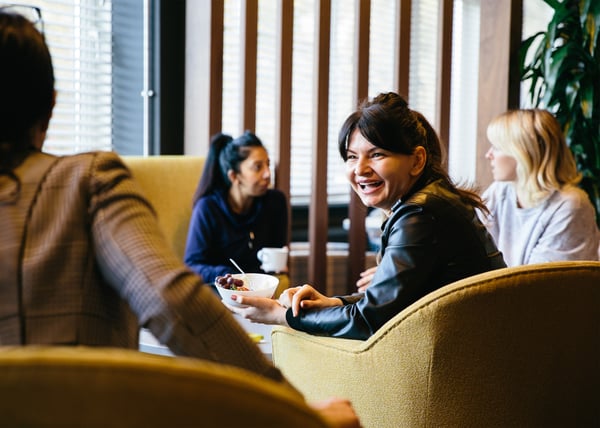 Below we've outlined the top 7 benefits of securing a co-working membership, and why one may be beneficial to improving your professional business life, here's what we'll cover:
Connecting with new and potential customers and business is crucial for your business to grow, so we'll start with networking and new business opportunities...
1. Networking and new business opportunities
Being a freelancer or a small business owner can be hard when you don't have a sense of community. A huge benefit of co-working from a business centre is the ability to connect with people you wouldn't meet when working from home. Also, two-thirds of workers claim that their career is helped by relationships formed through co-working. This comes with working alongside professionals from a huge variety of fields and industries, but also through the community element that's built into workspace solutions.
Many business centres offer free networking events, which are a great way to find collaboration and form relationships with potential new business. New clients and business are often made through relationships established at work, so the opportunity to increase your exposure in the community and grow your business has never been easier.
2. Cost savings
Running a small business can have many overheads. Having a co-working space can eliminate these costs as in many cases additional utility bills and office equipment are already included in the price and set up for you.
Many built-in amenities, such as front-desk and cleaning staff, internet connectivity, conference rooms, luxury lounges (like our own CLUB26) and bathroom amenities eliminate the costs associated with opening your own office space. This means that you don't have to spend time sorting out supplies and amenities, and can focus on growing your business.
To find out more about HUB26's co-working options
and find out more about our members only lounge, CLUB26
3. Flexibility
The beauty of co-working is that it's flexible. You can set your own schedule and work when you prefer to; there's no need to work around certain operating hours or someone else's schedule.
Many co-working spaces also offer flexible agreements that take the pressure off long term commitment away. This leaves your business with the option and flexibility to scale at your own pace, and this is crucial for your growing business.
4. Enhanced productivity
Your focus and energy levels fluctuate throughout the working day, and your workspace should accommodate this. Co-working spaces are optimised for productivity as they offer greater variety than a traditional office, but greater structure compared with working from home.
When you're working from home, many things can become a distraction - doing the dishes, putting on the TV, talking to your family. Moving into a shared office removes that distraction immediately. Therefore, your productivity dramatically increases.
Research reveals that we feel like we've more control over our work and that it's more meaningful when in a co-working environment. The fact that you're surrounded by other hardworking professionals not only gives you that extra boost of motivation, but also inspires you to learn and thrive. When working in a co-working space you have the opportunity to receive good advice and new and valuable knowledge, which allows creativity and productivity to flow.
This is eliminated in a home office environment where it can be hard to stay productive and you may find yourself questioning if your efforts are enough. Surrounding yourself with like-minded professionals pushes you to focus and feel like you can rest easy when breaking for a cuppa or relaxing in a luxury lounge.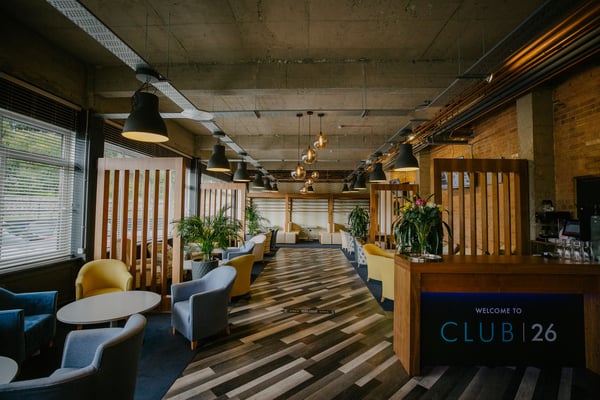 5. Business perception
If your business is growing and you wish to hire more people or meet with clients, working from home isn't a suitable environment.
Having a home address on your business cards and website can look amateurish. Hiring a co-working space in a business centre provides a professional work address that will give your company the image of success, making it a lot easier to appear professional when it comes to new clients and customers.
Also, a co-working space gives you a place to hold meetings, meet up with clients and of course, impress them. At many business centres residents are granted access to facilities like members only lounges and conference, presentation and board rooms to host their guests.
Thinking about an office?
Get a month for FREE! Find out more about HUB26's multiple options
6. Reduce loneliness
In today's society, an increasing amount of people face isolation and loneliness due to remote working. Totaljobs report that 46% of UK workers experienced these feelings when working from home throughout the COVID-19 pandemic lockdowns.
Co-working spaces can alleviate feelings of loneliness and isolation, as socialisation is integral to co-working culture. Small Biz Labs found that 89% of respondents felt happier when co-working compared to when working remotely, 83% said they became less lonely and 78% said co-working helps them to maintain their sanity.
Co-working can also contribute towards a community feeling, and even add to your sense of belonging. Connecting with others can help you feel like you belong to the larger world, but also inspire you and allow you to generate new ideas. Humans thrive in social situations and therefore, co-working not only helps with your mental well-being, but also helps to improve and grow your business.
7. Work-life balance and structure
Many individuals have issues with separating work from everyday life. When working from home it is very difficult to establish a barrier between the two and 'switch off' from work, which can take a serious toll on your health.
Co-working gives you a dedicated space to just work, and when you leave for the day you can physically leave work at work. Likewise, co-working allows you to have structure in the working day without the distractions that you'd face when working from home. This makes it easier to focus in your working hours and separate your personal and work life.
A healthy work-life balance is promoted through co-working, as this is generally a healthier and more relaxed environment. Co-working comes with greater flexibility to make your own schedule, and this is the foundation of a healthy work life equilibrium.
Some business centres even offer residents the option to use an onsite first-class gym, in order to de-stress and recharge during the working day. This is due to the strong link between exercising throughout the working day and increased productivity and enhanced cognitive ability.
Final note from HUB26
With so many benefits it's no surprise people are turning to co-working, and this may be the next step to taking your business to the next level.
To celebrate the success of HUB26 Scandinavia Mills, we've expanded. Our new site HUB26 Lawrence House brings an additional 22,000 square foot of space. So whether you're looking for a place to make valuable contacts, meet like-minded professionals or an inspiring place to work, we've got plenty space to provide your perfect co-working solution at both of our business centres.
Find out more about why an office is essential for your business' growth