Congratulations! Your hard work has paid off and your company has hit a growth spurt. You're generating more revenue and employing more staff. You've decided it's time to make the move and look for a new office.
The Covid-19 pandemic and associated lockdowns have resulted in huge changes to the way businesses operate and their needs going forward as life and business returns to a new normal.
Finding the perfect office space to rent that accommodates these new needs may seem like a daunting task at first. With numerous people to please, strict business requirements, and so many options to consider you may not know where to begin. Don't worry – this is a challenge for many other businesses too.
Selecting the right office space to rent can make a huge difference when it comes down to employee satisfaction, recruitment, retention, productivity and the ability to bring in new business opportunities. Therefore, you should take time to consider what your business and employees need to succeed, grow and thrive.
To enjoy a HUB26 office free for a month
To help you along the way we've outlined 14 key qualities that you should look out for when finding your perfect office space to rent.
Here's what we'll cover:
Businesses love the flexibility that no fixed terms provides, so we'll start here…
Flexibility is key for companies in the current business environment. Many businesses look for flexible contracts with no fixed terms when searching for a new office space, as can relieve the anxiety surrounding long-term financial commitments in the current climate.
Renting an office space with no fixed terms can be a challenge to find but will prove its worth tenfold and allow you to scale your space up (or down) to meet your changing business requirements.
Selecting a suitable size office space to rent can be difficult no matter if your company is start-up or well established. A small office can end up being cramped and may negatively affect productivity. On the other hand, no business wants to pay for space that's sitting empty and more difficult to fill than anticipated.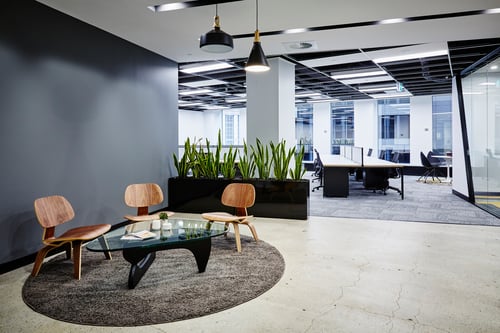 Therefore, finding an office space to rent that caters to businesses of any size, with the option to scale up or down, can be a game-changer. This is the perfect environment to help your business grow and thrive.
To find out more about HUB26 offices
Fitting into someone else's idea of an office isn't always suitable for every business. You may require a specific space and set up to suit your line of work and working style.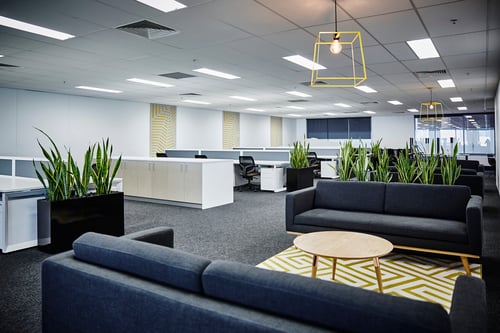 Choosing an office space to rent that offers bespoke customisation allows your business to create a layout that meets your requirements and preferences perfectly. Whether you require a full floor or a more compact space, tailored workspaces are your company's answer to boosting productivity and employee satisfaction.
Renting an office space that is deep cleaned will not only avoid disruption to your business but also give your company a professional look, create healthier surroundings for all involved and result in fewer sick days for your employees.
Due to the international pandemic, a high standard of cleanliness and hygiene is critical to every business now more than ever. You should find a workspace that prioritises safety so that you can work in confidence.
Exercise is key to staying productive, keeping a positive mindset and overall wellbeing. Some employers note an improvement in time management and productivity from employees who make going to the gym part of their daily routine.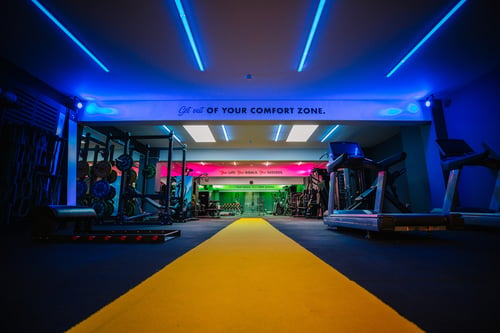 Only a third of workers manage to exercise once or twice a week because they're struggling to find the time. However, when you have exercise facilities onsite it's easy to integrate physical activity into the structure of the working day.
With the option for your employees to workout before work, after work or during their lunch break, working out can fit into your busy daily schedule without compromising it. This will help your employees enjoy a healthy lifestyle and manage a positive work-life balance.
Looking for a state-of-the-art gym? Find out about FIT26
Taking a break can boost productivity by up to 13%. Any office space you're considering renting must have a place where employees can leave their work behind, take a break from their desk, and then return to the office feeling refreshed.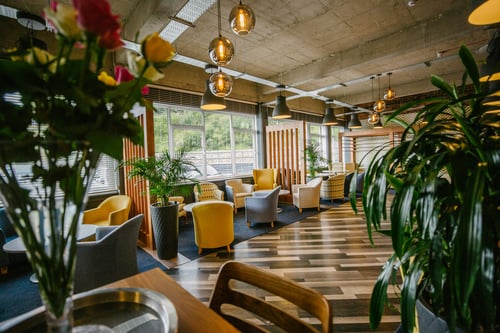 Renting an office with access to exclusive facilities can help to maintain a healthy work-life balance. Employees are free to relax, network and catch up whilst having a well-deserved break.
Networking is such a valuable tool in the business world and by creating a professional network you'll be presented with many opportunities and a competitive edge throughout every stage of your career.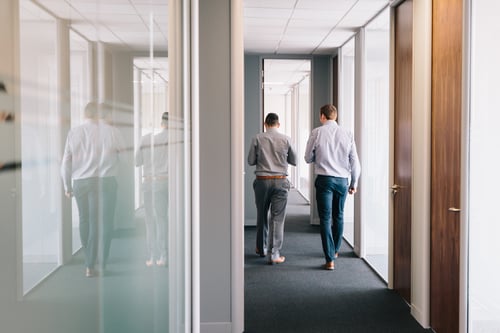 With 70% of people finding work through networking, there's no surprise that when searching for an office space to rent businesses look for networking opportunities and events offered by the complex.
With most business lifestyle centres, you're presented with daily various networking opportunities. Being surrounded by other like-minded people can generate valuable contacts for your business.
Choosing to rent an office space that offers a manned reception adds a layer of professionalism to your business. Reception facilities manage the those pesky interruptions of ringing phones, deliver messages and greet your visitors. This leaves you free from distraction and makes it easy for you to focus entirely on your business.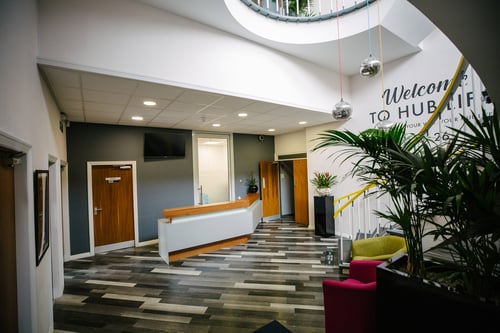 All of your important post is taken care of when choosing to work from an office complex with a members-only mail service. Mail can be held for you to collect or forwarded onto your office so that you don't have to take time out of the working day to manage it.
No matter what sort of business you operate, location is always an important factor when choosing an office space to rent.
Stressful city traffic and inconvenient commutes are major concerns for workers. A third of employees show up late to work once a month and 50% of them blame heavy traffic and gridlock.
Looking for an office space in a location that's easy to get to by car or public transport, and convenient for both employees and clients will prove it's worth in innumerable ways.
UK drivers spend an average of 44 hours a year searching for a parking space. Endlessly circling congested city streets trying to find astronomically priced car parks just adds unnecessary stress to the day.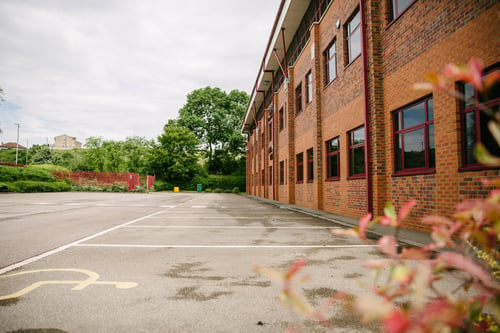 However, renting an office space with ample free parking eliminates the hassle of finding a parking space and the appalling prices of inner-city parking, meaning both staff and clients will arrived to your office stress-free.
In today's fast-paced world, business is driven by the internet. Unfortunately, slow and unreliable WiFi is no longer acceptable and could potentially hold your business back. Therefore, before selecting an office space to rent you should check that they offer free, secure, reliable and super fast WiFi.
To enjoy a HUB26 office free for a month
The days where business was just done between 9 and 5 are over. Thanks to the internet and the explosive growth in a flexible workforce, many businesses now efficiently operate 24 hours a day, 365 days a year.
With many companies working internationally and in different time zones, offices that only offer restricted access no longer make the cut.
To give your employees the flexibility to work whenever they need, you should consider looking for an office space to rent in a building that gives them the ability to access their office on their terms.
Every business has the goal to grow. But to grow, they must select the appropriate workspace that supports both personal and business growth.
Researching if the office space you're considering renting offers no fixed terms, and the ability to scale up or down to meet your potential expansion in the future, is essential.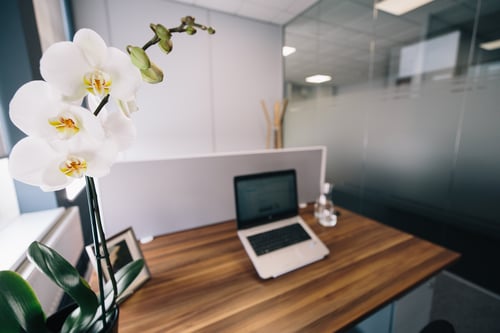 You should also explore the facilities the complex offers to accommodate and encourage your growth. Access to state-of-the-art facilities, working in an inspiring atmosphere and connecting with like-minded individuals makes a huge difference to a healthy work-life balance, employee satisfaction and productivity at work. This boosts growth.
When everything including rates, utilities, WiFi, and facilities are included in one price it makes focusing on growing your business easy.
Final word from HUB26
Choosing a suitable office space to rent that benefits your whole team can be tricky. However, at HUB26 we recognise the needs of out client base which is why we champion the 14 points above and more. We've researched how the benefits of hard work, socialising, enjoyment, relaxation, and exercise all combine to boost the growth of our residents' businesses.
Whether you require an office to work from, a boardroom to meet in, a lounge to network in, or a state-of-the-art gym to blow off the morning's workload; HUB26 packages this all up for you in a single price so that you can focus on growing your business.
Looking for an office space to rent in business centre tailored for you?