Set in the heart of the UK's major city network, West Yorkshire's HUB26 is the ideal business centre for taking your business to another level.
Situated on the M62 motorway (J26) and only a 15 minute drive from Leeds, 30 minutes to Manchester, 2 hours to Birmingham, and just over 3 hours to London, Edinburgh, and Glasgow, no location is better positioned to service an expanding national marketplace.
To find out more about our offices
CLICK HERE
But if access to these major networks isn't needed, don't worry because HUB26 is so much more. A lifestyle business centre with a unique concept and vision: to create space for people to WORK, MEET & PLAY, and most importantly help your business grow.
The team at HUB26 recognise the benefits of combining hard work, socialising, enjoyment, relaxation, and exercise (with its additional by-products of increased well-being and productivity). We call it fusing your passions with your profession.
Whether you require an office to work from, a boardroom to meet in, a lounge to network in, or a first-class gym to blow off a morning's workload; HUB26 packages this all up for you in a single price so you can focus on doing what you do best, growing your business.
Below we've outlined some of the major benefits our resident businesses have enjoyed and why they say HUB26 has become their home away from home. Here's what we'll cover:
Businesses of any size

No fixed terms

Deep cleaned

Gym

Members-only lounge

Networking

Reception

Mail service

Location

Parking

Secure superfast WiFi

24/7 Access

Built for growth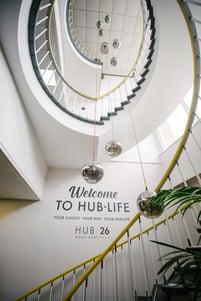 Let's start to explore these amazing benefits…
Businesses of any size
At HUB26 we cater for all office size requirements, regardless of size. Whether your company is a start-up or well established, we can tailor our workspaces to suit your business needs. As you grow you can increase your square footage to fit more staff in or even find a smaller office if needs must. No matter what your requirements we'll find a solution.
No fixed terms
We understand how important flexibility is for businesses, that's why we offer flexible contract terms with no fixed term leases. This allows you to scale your space up (or down) to meet your changing business requirements.
Deep cleaned
At this time, here at HUB26, due to the international pandemic we realise how important a high standard of cleanliness and hygiene is to you and your business. That's why we ensure that all common areas and resident's offices are deep cleaned daily by our in-house residents and cleaning specialists Bright FM Group, to ensure our building is a safe place to work.
To find out more about our offices
CLICK HERE
We believe that exercise is the key to staying productive and keeping a positive mindset. Some employers have even noted a 72% improvement in time management and productivity from employees. That's why all our HUB26 residents receive complimentary memberships with FIT26; our state-of-the-art gym.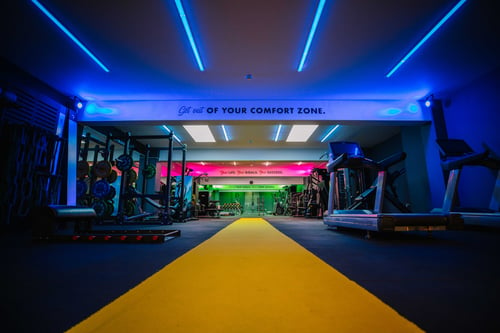 Our luxury members' only lounge, CLUB26, is like no other. Whether you're meeting for an informal coffee, organising a training day, planning a private function, or just want to take a five-minute timeout from working, the lounge and CLUB26 team will make you feel like you're at home.
Also, our gourmet kitchen is now open for breakfast and lunch, with a brand-new menu, locally sourced ingredients and everything made fresh to order. We also offer in-house catering for any private function that you'd like us to host.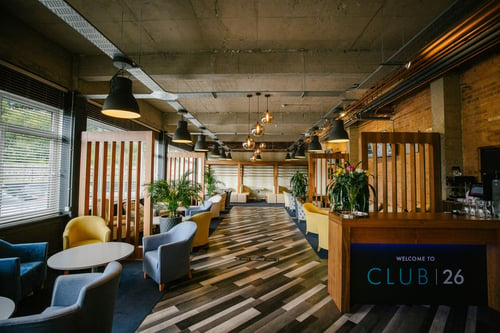 Networking
HUB26 members are part of a wider community, who are given the opportunity to meet other like-minded people, swap ideas, and generate valuable contacts. We have our own organic resident network, with many of our resident companies providing services and business for each other. Our clients frequently utilise the wide range of facilities here at HUB26 offering free networking events throughout the year.
Reception & virtual reception
All residents receive a first-class reception service, situated upon entry to the business centre. We also offer a virtual receptionist if your needs warrant it. Our friendly and professional team will greet and welcome your visitors, making it easy for you to focus entirely on growing as a business.
Mail service
Let us take care of your important post with our members-only mail service. We can either hold your mail for you to collect or forward it on to wherever you are in the building. Likewise, with a virtual office, you'll get a dedicated postal address for your business and the option of post forwarding.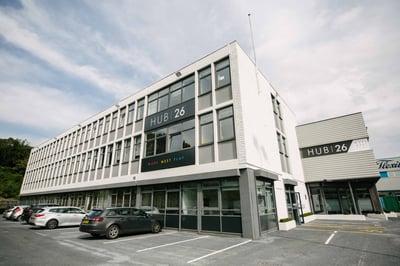 Location
Leave stressful city centre working and inconvenient commutes behind. As discussed in the introduction of this post, HUB26 is located just off the M62, making us easy to access from Bradford, Leeds, and Huddersfield, or even further afield.
Parking
All of our customers receive ample-free parking, which reduces the hassle of finding a parking space and the appalling prices of inner-city parking, making getting to work easy and stress-free.
Secure superfast WiFi
We're always looking for ways to go above and beyond for our clients. That's why all of our residents enjoy super-fast, secure, and unlimited WiFi, as we know how important it is to stay connected in today's business world.
24/7 Access
As an organisation, we understand that businesses often work internationally and in different time zones and that's why we offer our residents the ability to access their offices 24 hours a day, 7 days a week. We make it easy for you to work on your schedule and when your business needs it.
Built for growth
One of the greatest strengths of our unique offering is that we take away the headaches, so everything including rates, utilities, WiFi, the gym, and everything else described above is included in one price, so you can focus on growing your business.
With all these amazing benefits, focusing on growing your business has never been easier.
Find a home for your business with HUB26.
To find out more about our offices
CLICK HERE